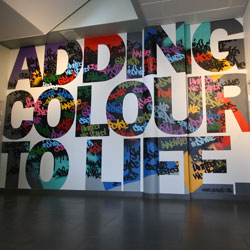 PARK INN, MALMÖ
September 10, 2013
At the end of last year, I was asked to create a wall painting for the Park Inn hotel in Malmö, Sweden. The work was to be centred around the company's motto; "Adding Colour To Life" and incorporated associative words which would represent what the hotel stood for.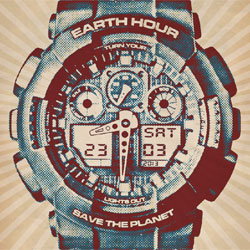 EARTH HOUR 2013
March 21, 2013
Earth Hour 2013 is this Saturday (March 23) at 8:30pm. Earth Hour is an event that unites people to protect our planet and switch off their lights for one hour. To mark this years Earth Hour I created some posters to promote the event.
The posters come in three colour schemes and will be available to buy soon. For more info concerning Earth Hour visit their site here.

So come on... turn your lights out and help save the planet!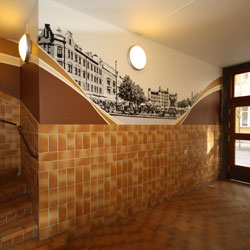 MKB MÖLLAN
March 12, 2013
Last year I was commissioned to create some artwork for MKB here in Malmö for the entranceway to their Möllan office and the surrounding apartments.
The idea was to paint something representative of Möllan and the diversity, movement and life that can be found here.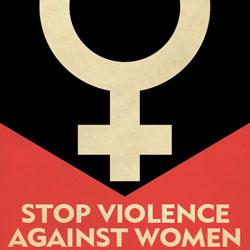 INTERNATIONAL WOMENS DAY
March 8, 2012
As many of you know, today is International Women's Day, a day to celebrate and promote the empowering of women all around the world.
Many organizations adopt themes for their events and this years theme set by the United Nations is "A promise is a promise: Time for action to end violence against women".
For more info or to find events in your area, check out the International Women's Day website.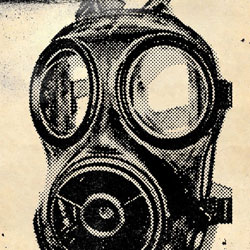 BREATHE POSTERS
January 25, 2013
Here are some pieces that were made quite a while back but never got posted on the site in this medium. The pieces were screen-printed both on t-shirts (which were posted here on the old site) and on posters.
The pieces are a comment on the state of our environment and our dependency on the various fuels we use which are destroying it.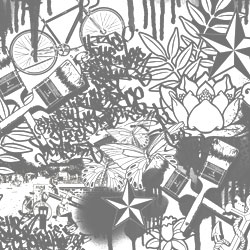 HAPPY 2013!
January 19, 2013
A rather belated Seasons Greetings and Happy New Year. Thank you to everyone who supported GrinAid in 2012 and we wish you all the best for 2013.
We have lots of projects in the pipeline at the moment, one of which being a wall painting in the lobby of the Park Inn Hotel. Along with the new projects, we also have a new facebook page with updates etc which can be found here. There is a lot of new work to be added here also, so keep your eyes peeled.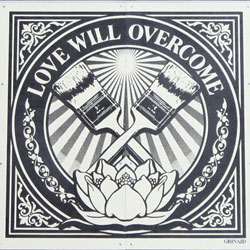 MKB STORGATAN (PART 2)
November 29, 2012
Here is the second lot of photos from the commission for MKB in Storgatan in Lugnet, here in Malmö.
Keep an eye out here for the posters coming soon.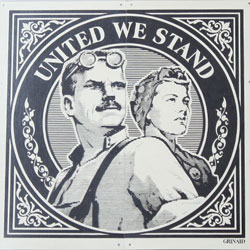 MKB STORGATAN
November 27, 2012
Last year I was commissioned to create some artwork for the housing company MKB here in Malmö. The commission involved two pieces that would serve two purposes, firstly, present good messages to the public such as unity, working together, and peace, and secondly, pay tribute to and work as a reminder of the working class history of the neighbourhood where the work would be placed - Lugnet, Malmö.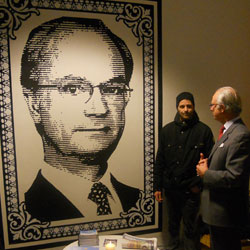 BY ROYAL APPOINTMENT
September 10, 2012
Well not really, more a royal audience. Last year I was asked to paint a piece for MKB in a community centre here in Seved, Malmö. The piece was to mark a visit by the King of Sweden who was to there to meet with local community members and leaders to discuss the increasing problems experienced in the area and any possible solutions. I was asked to go along and was introduced to the King. Pretty choice for a "fella" from NZ.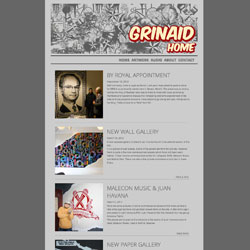 NEW COLOUR SCHEME
September 9, 2012
I have been thinking of changing the colour scheme of the site for a while now and decided recently to go for it (being a new season and all). So here it is.
Have been busy of late with a few various projects (some still being worked on). I am also in the process of getting more pics up here, so keep your eyes open and check back regularly for some new stuff. Enjoy.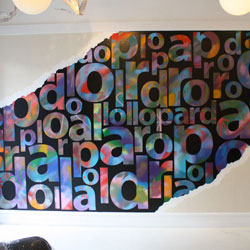 NEW WALL GALLERY
March 10, 2012
A new updated gallery of artwork can now be found in the artwork section of the site. It is a gallery of wall pieces. Some of the pieces are from the old site, however, there is quite a few new commissioned pieces which have not been seen before. These include commissioned works for Lollopard, MKB, Malecon Music and Malmö Stad. There are also a few private commissions included in there. Enjoy.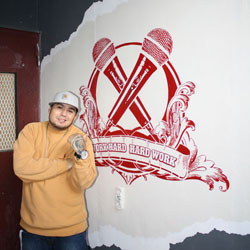 MALECON MUSIC & JUAN HAVANA
March 6, 2012
Here are some pictures of some commissioned pieces which were painted a little while ago but have not yet been shown here on the site. A little while ago I was asked to paint some stuff for Juan Havana from the Swedish hip hop group Advance Patrol.
The pieces are located at the entrance to the studio of Juan Havana's record label, Malecon Music, here in Malmö, Sweden.
NEW PAPER GALLERY
March 4, 2012
A new gallery of artwork has just been added to the artwork section of the site. It is a gallery of artwork both printed and painted on paper. Some of the pieces are one-off originals painted using spraypaint and marker-pen while others are screen-printed posters which come in numbered series. These pieces are for sale, however, some of them have been sold. If you are interested in any of the pieces, please email with any queries.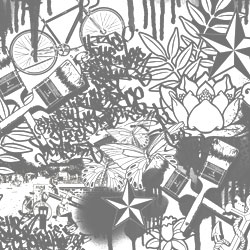 NEW SITE COMPLETED
March 1, 2012
Welcome to the new and revised website. It has been a long time coming but is finally up and online. Over and above the new design, the site is using a new layout in terms of the galleries which I hope makes it easier to view.
Due to the redesign of the site, the old site wasn't updated as often as it should have been and because of this there is a lot of new work on show here. At the moment the audio section is not online but will be back up soon. Enjoy, and feel free to email any queries.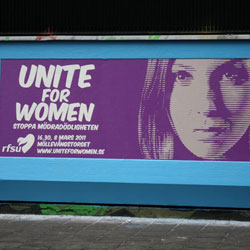 UNITE FOR WOMEN
March 1, 2012
As many of you know, the 8th of March is International Womens Day and here in Sweden, RFSU are organizing push-chair marches throughout the country to raise awareness to the problem of maternal mortality. For the event here in Malmö, I was asked by them to paint the free wall to advertise the event.